If you think the music industry is in a dire, downward spiral, you wouldn't know it while standing in the middle of California's Anaheim Convention Center during 2019 NAMM (National Association of Music Merchandisers) the last week of January. NAMM's tagline, Believe in Music, said it all. Founded in 1901 to serve the needs of music merchandisers, the NAMM show has expanded to serve the broader music community. Today, more than 115,000 attendees frequent 150+ networking events and 400+ educational sessions — workshops like Publishing, Mixing, Tour Management, Artist Management, Finances, YouTube Monetization – forums intent on helping attendees gain the knowledge and tools to sustain successful careers in the music industry.

The Gibson Guitar Booth: Dave Bagley Sampling the Wares, NAMM 2019 - Photo by Aashish Pathak
NAMM is also a massive matchmaking event where influential musicians seek iconic-looking instruments to help reinforce their distinctive public personas. Diamond Guitars and Diamond Amps CEO Jason Struble explained, "In our industry, licensing of musical instruments is very irregular. It is of import to us, for example, to protect our designs, as the uniqueness of design is what gives a company that extra edge, particularly to musicians where the product itself becomes part of their overall image."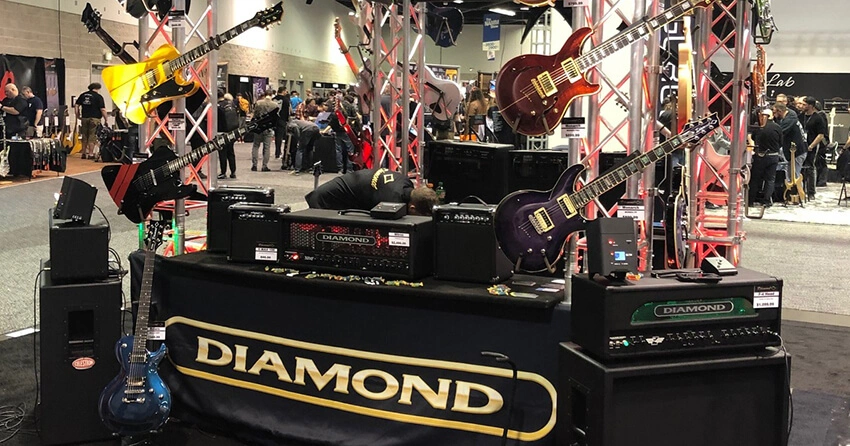 Diamond Guitars and Diamond Amps, Booth #3326, NAMM 2019 - Photo by Jason Struble
The Vistex Connection
So…why is my company, Vistex, attending NAMM? Well, NAMM is an ideal venue for connecting with our music industry colleagues who need Vistex solutions for licensing, rights, and royalty management. For more than 30 years, Vistex has been the software leader helping music publishers and record labels monitor and manage every aspect of their rights and royalty obligations; those back office, nitty-gritty details—contracts, sales reports, royalty statements—which we simplify and streamline. Record labels and publishers can then reclaim their precious time to devote to A & R and other creative endeavors.
Vistex recently launched our Go-to-Market Suite® (GTMS), which will further establish our legacy as the industry standard. Combining the functionality of our Record Maestro and Music Maestro software into one cloud-based solution, GTMS offers an easy-to-use interface and unparalleled transparency with its online statement delivery and detailed analytics.
Rickenbacker Guitars, NAMM 2019 - Photo by Dave Bagley
Even after 118 years, the NAMM Show is still the place to be for traditional music merchandisers, and after three decades, Vistex remains the software provider to see for music and media industry rights and royalties. If you have any questions about our music rights and royalty management software, please visit Vistex.com or contact me – I'll be happy to share more.