Channel data management (CDM) is one of the best ways for High Tech manufacturers to increase visibility into the details of events and transactions within their sales and distribution channels. CDM, when done properly, delivers decision-grade channel intelligence to increase sales, reduce leakage, and improve the ROI on your channel investment.
Research shows that better channel management has helped some telecom companies increase channel revenues by as much as 5% annually and reduce sales promotion costs by 10 to 15%. These are hefty numbers considering that incentive payments represent more than $50 billion of the $1 trillion in sales coursing through tech industry channels.
Actionable insights—or a jumble of data?
In our previous blogs, we discussed what CDM is and why it's important. Now let's discuss the benefits of good data.
Successful CDM provides you with clean, accurate, complete, and recent data—which means it's trusted and actionable. When you trust your data and can draw actionable insights, you accomplish your goals more quickly and with less friction. For example, you can improve your marketing campaign results by targeting the right accounts. You may also find that you make fewer overpayments to partners. That money goes straight to the bottom line.
Can you think of other areas where you benefit from having good data?
Get the truth—only one version of it
Your Global Tiering and Segmentation Model (GTSM) profile provides tremendous value across the organization. Leverage your data to:
Confidently and consistently report partner activity and performance from a single source of truth
Deliver the right program benefits, and communicate with the right contacts to support and grow your partnership
Efficiently manage partner eligibility and access to programs, content, and resources
Stay in control
Companies that succeed with CDM rely on three key elements: process, governance, and tools. The lack of governance and controls can render the best processes and tools ineffective. You want to make sure that today's good records don't become bad records tomorrow due to a lack of controls.
Data Governance is a key foundational element that companies depend on to achieve business value. It includes:
Analytics
Mergers & Acquisitions
Business Intelligence
Credit Risk Management
Financial & Regulatory Compliance
Business Process Management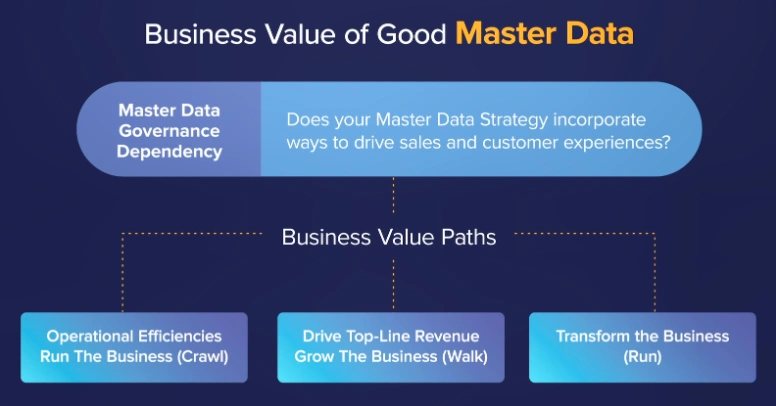 Companies can vary in their level of maturity in their CDM journey. At each level, there are opportunities to make changes and advance along the path to success. We've broken these down into 3 phases: crawl, walk, and run.
Crawl – Operational efficiencies
This is the internal foundation used to set the focus. If you process claims faster from your channel partners due to fewer errors, you can potentially improve visibility on sales and take corrective action faster. Efficiency and productivity gains allow for re-distribution of resources from back-end processing to more value-added activities. Price request turnaround time is important if you lose sales due to delays in pricing; reduce leakage with faster turnaround times.
Walk – Drive Top Line Revenue Growth
This is the phase where you grow the business. Increase sales or improve margins by putting good data to work. Undertake marketing campaigns that have a greater chance of success by targeting contacts on a more personal and relevant level. Provide target lists to external sales teams to create end customer pull and generate demand. Evaluate compliance on commitments and validate performance incentive offerings.
Run – Transform the Business
Take the company to the next level. Customer experience and insights with good data may provide line of sight to drive go-to-market changes, with examples being price strategy and customer segmentation. Focus on delivering the right product to the right customer at the right price. You may find opportunities that lead to redefining categories and portfolios within categories.
Good data also has other benefits, such as developing new channels, differentiating go-to-market models, and expediting innovation pipelines, but those are topics for another blog.