Chicagoland Global Software Company Vistex Doubles Down on the City with New Downtown Office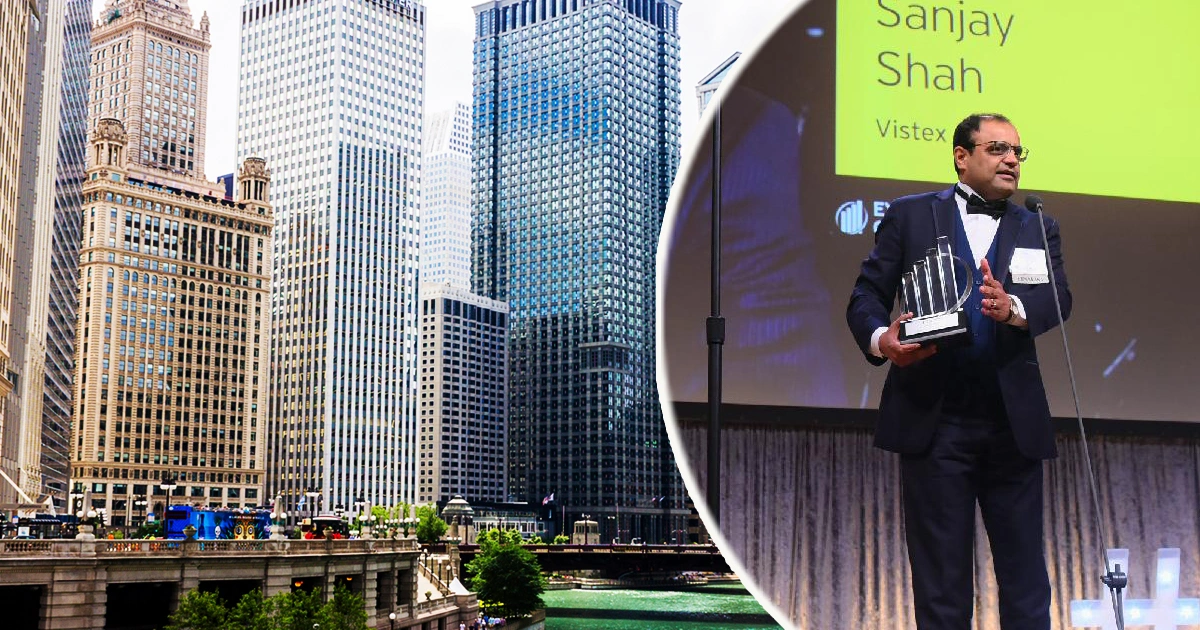 *Photo credited to Bert Kaufmann from Roermond, Netherlands CC BY 2.0, via Wikimedia Commons and Brian Camarao
Investment in New Chicago Office Announced by Vistex CEO and EY Entrepreneur of the Year 2019 Midwest, Sanjay Shah
Hoffman Estates, IL: Wednesday, June 26, 2019 – Vistex Inc., the global software company founded and helmed by Sanjay Shah, announced today the lease of an office at 1 East Wacker Drive. The new office will mark the company's first downtown outpost, with the Vistex global headquarters located in suburban Hoffman Estates.
The 8,000 square foot office space is equipped for 50 new hires with positions focused in sales, marketing and engineering, reaffirming the company's commitment to investing in talent and Chicago's technology scene. The expansion of Vistex's footprint is fueled by the company's first minority equity investment from earlier this year of $105 million from Accel-KKR. 2019 has been something of a breakout year for the company and its leader: Beyond securing a large-scale investment, Shah personally received the prestigious EY's Entrepreneur of the Year 2019 Midwest Award in the technology category.
"With the opening of a downtown office, Vistex joins other Chicago-based technology companies in attracting key talent and making our city a formidable force within the tech space," said Shah. "The infusion of equity capital from our partnership with Accel-KKR has accelerated our ability to invest in both talent and operations. We are focused on continuing our exponential growth and pushing the boundaries of our capabilities, especially in cloud software."
The announcement of the new office comes on the heels of Shah's recognition as EY's Entrepreneur Of The Year Midwest 2019 Award in the technology category. Shah was recognized for his development and design of an entirely new category of software, as well leadership throughout the past 20 years, leading to a worldwide operation with 21 offices, 1,500 employees and nearly $250 million in revenue in 2018.
"I'm honored to be the recipient of this award," shared Shah. "Vistex started 20 years ago when I saw a void in the ERP market. Since then, Vistex has transformed from being the 'largest software enterprise company in Chicago that no one has heard of' to becoming the Midwest's answer to Silicon Valley in enterprise software and technology."