The future of farming and the 4 pillars leading to agriculture 4.0
Approximately 11,000 years ago, our hunter-gatherer ancestors began trying their hand at crop farming. First, they grew wild plant varieties like peas, lentils and barley. When they began observing the crop lifecycles and thinking about how they could domesticate them, they realized it was possible to control production and ensure feeding their communities more efficiently. The traditional hunter-gatherer lifestyles were swept aside for more reliable food supply farming.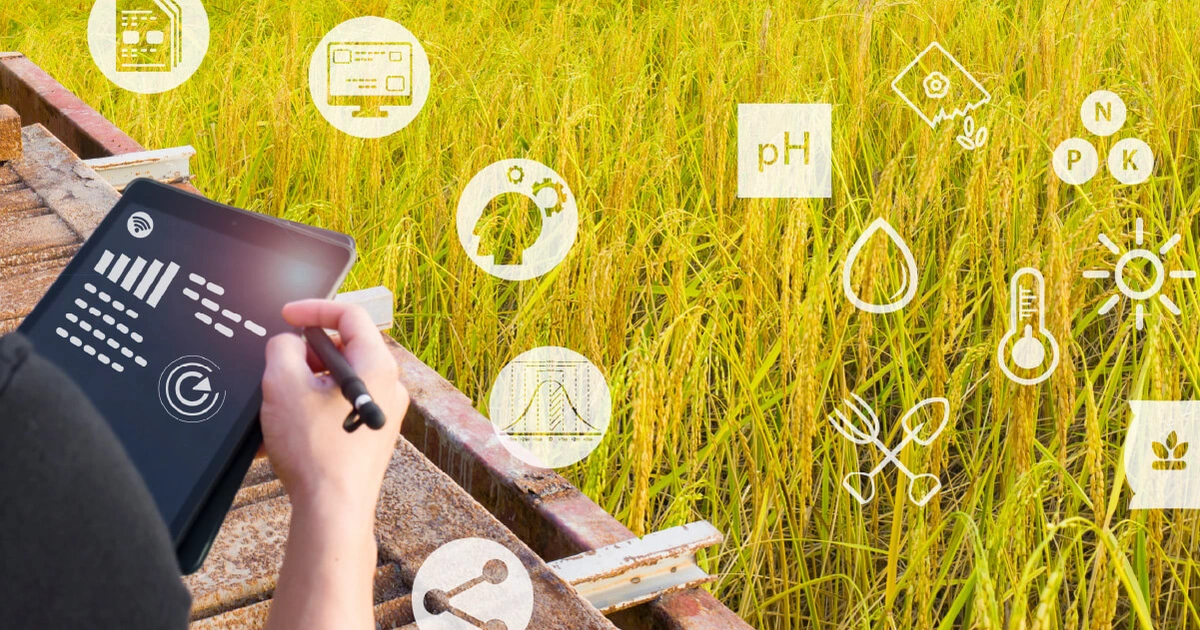 Smart farming begins to take root
Centuries later agricultural practices continue to evolve. These advances triggered changes in farming practices that include:
Selective breeding by adapting the crops to our developing environment
Precise and efficient irrigation and fertilization techniques
Advances in technological development allowing usage of tractors, robots, drones, sensors, and computer software that help the growers digitize information and bring automation to the farms
We refer to the usage of information and communication technology in agriculture today as smart farming or agriculture 4.0.
Over the last 40 years, many emerging farming solutions began to focus on the global market, aiming to address regional and international challenges related to operational optimization, data management and predictive analytics. This progress enables growers like you to respond more accurately to these 4 crop production questions:
What to plant?
Where to plant?
When to plant?
How should it be produced?
You can answer these interconnected questions more efficiently when a smart farming solution is built around 4 key pillars.
1. Digitization from field to fork
Paper-based information management is no longer a viable model for your agribusiness. Employing a smart solution by fully utilizing software solutions to manage field activities allows you to preserve, access, process, and share data while preventing loss and inaccuracies. User-friendly interfaces used through GIS, mobile and web-based tools are expanding the usage by making it feasible for all employees from management to agronomists. Field technicians can use the software without advanced technology skills.
As you manage higher volumes and velocity the term big data becomes invaluable. Now, more than ever you need the capability to store, aggregate and compute relevant data to build machine learning models. This will enable yield forecasting and predictive analytics that alert you before a problem occurs.
Digitization is also about traceability throughout the supply chain from crop production through consumption. Barcode/QR code technologies combined with batch management solutions and ERP platforms are great alternatives to store information from field to fork. We're also witnessing growth in blockchain technology, where start-ups are focused on building solutions for the food industry and enabling all the stakeholders (including consumers) to have total transparency around all the steps of the supply chain just by scanning package QR codes.

2. Precision agriculture provides a clear view of the field
Geographical information system (GIS) was the first source of precision farming enabling farmers to depict the fields into geographic views using multispectral imagery gathered by satellites. This makes it possible for you to evaluate soil productivity, fertilizers residue, water management, crop health and vegetation density. It provides the ability to manage field operations at a more granular level and analytics for better forecasts. Additional technologies support and strengthen this process:
Telematics and GPS tracking: Gain real time positioning of farming equipment and insight on more efficient utilization for operations by applying the right dosages of supplies at the right spot of the field.
Drones: Emerging UAV manufacturers utilize drones for farming. Drones offer possibilities to automate field operations accurately such as precision spraying, GIS map drawing, sowing and disease control.
Sensors: Both sensors and weather stations assist in estimating soil, crop, and water parameters, allowing you to monitor their response adequately to climate changes, diseases, and lack of crop nutrients.
IoT and AI: Internet of Things and artificial intelligence are bringing a revolutionary way of managing the field by enabling communication between devices, equipment and software. This ensures an automated, precise and efficient response while reducing human intervention.
Disease classification: Crop diseases are detected more precisely and at early stages with imagery recognition and classification by following algorithms.
3. Sustainability for field preservation
We cannot talk about an agriculture 4.0 model without consideration of natural resources. It's undeniable that we need to produce in a more sustainable way to ensure the perennity of our arable lands. The global agribusiness industry places strict regulations on the use of chemicals including fertilizers and phytosanitary products for crop production. Parameters like postharvest intervals and max dosage applied still fluctuate greatly between countries and regions. To ensure compliance and close follow-up of chemical application, a smart farming solution should structure dosage information by crop/region and be able to trigger alerts in case of excess.
Other sustainable practices that can be supported by agricultural 4.0 include:
Crop rotation for healthy plantations and prevention of depleting soil nutrients
Integrating livestock and crops for a more efficient agricultural model
Crop breeding research that brings more resistant varieties
Optimization of water usage
Traceability of the produce
4. Integration for growing field operations
Using farm management software, GIS software, IoT devices, artificial intelligence and machine learning concepts will certainly transform the way you manage farming activities. But you will only reach maximum efficiency when these technologies are connected to each other, gaining the ability to communicate seamlessly.
Here's how this works: When sensors detect a water deficit, they trigger an irrigation order with the correct amount of water to distribute. This will trigger the actuator in the field to activate the water pipe filling in the water deficit. Today, we witness a trend in collaboration between different farming solution providers that takes digital agriculture to the next level.
Extending the usability of ERP software into farm management plays a major role in the integration of supply chain management by bringing business processes together. This allows departments such as finance, sales, purchasing and production to communicate seamlessly within the platform. The idea is that all planning linked to the purchase of seeds and supplies or the assignment of resources, is optimized in a way that matches the industrial processing capacity and sales forecasting.
Incorporating the latest technology to ensure you stay ahead of the competition isn't always smart farming when you consider the complexity of the food production ecosystem. You must also incorporate a well-organized IT infrastructure based on an efficient collaboration model, ensuring a unique flow of information and preventing the use of disparate systems.
The exponential growth of technology is inevitably bringing agriculture into a new era, where efficiency, sustainability and integration are the drivers of a successful farm management solution.
For more information, view our on-demand webinar
Powering Your Business with SAP Farm Management