Seamless integration to negotiate and execute prices, quotes and contracts
You're negotiating live with customers – but do you have all the information you need? Get immediate access to pricing and production information, right within Salesforce, so you can speed up the flow of your revenue and sales opportunities.

RevFlo by Vistex integrates seamlessly with Salesforce allowing you to:
Negotiate pricing and contracts, and simulate scenarios
Gain real-time insights into AI driven price guidance
Validate corporate price and margin policy instantly
Review and approve pricing and contracts, with full supporting details
Track pricing and contract performance
Designed for Sales Teams. RevFlo was developed to help you streamline and speed up your sales cycles.
With seamless integration between Salesforce and Vistex, you can accelerate negotiation and contract cycles, eliminate errors and improve sales operation performance. You can negotiate, execute pricing, quotes and contracts all in one place and in real time!
Who uses RevFlo?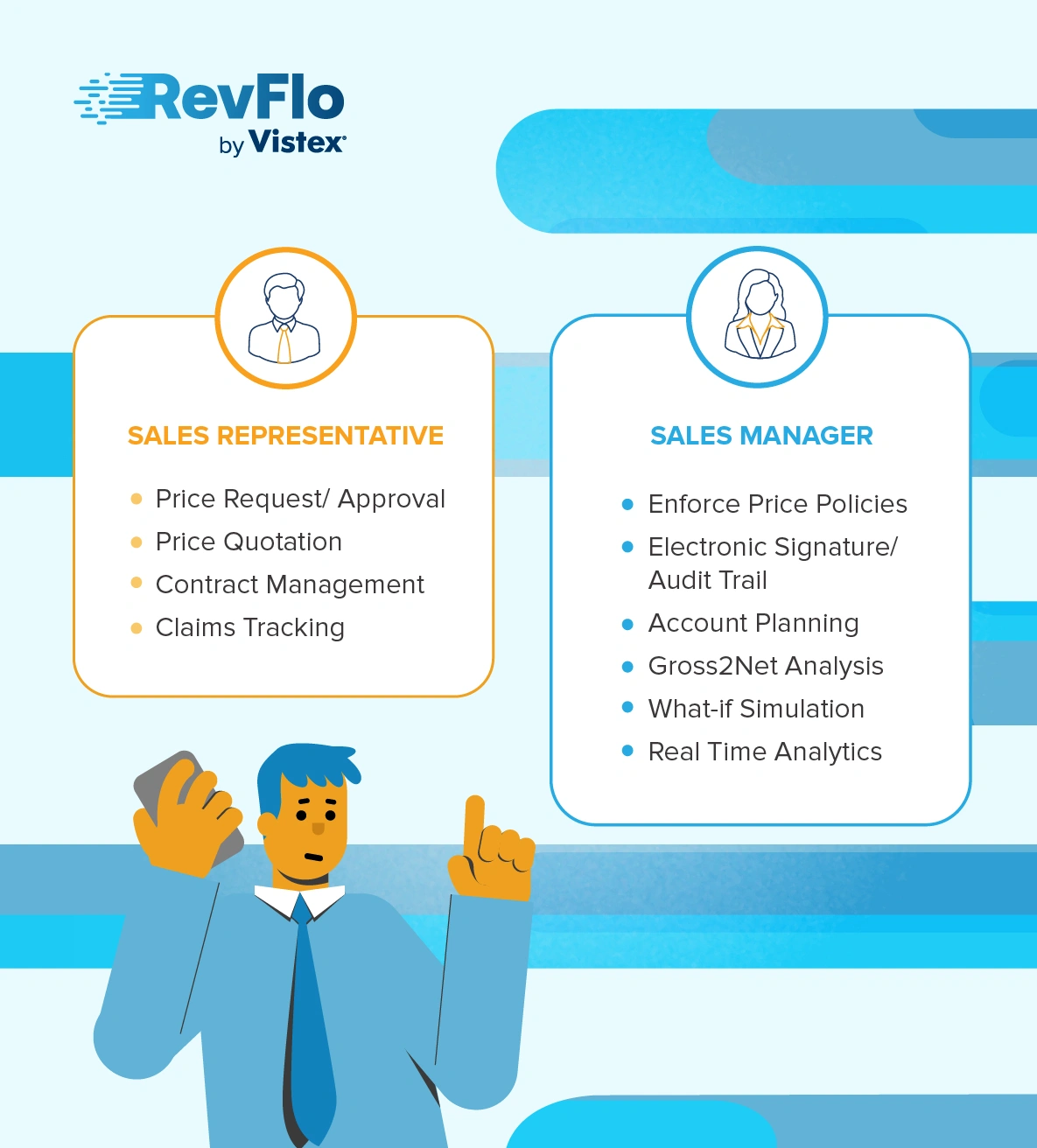 Disparate systems cause a disconnect between contract processes and Salesforce sales team users

Seamless, direct integration between Salesforce and Vistex for full visibility to CPQ stages
Labor-intensive management of multiple systems and redundant data

Work in one system with SSO to simplify all your tasks
Decentralized, unstructured data and complicated file share processes are manual and error-prone

Eliminate data redundancy by accessing all your pricing, quotes, and contracts in one location
Difficulty managing complex contracts at scale

Access Prices and Contract information instantly
Sales reps struggled to create complex proposals, making negotiations slow and cumbersome

Fast access to pricing and production information in SalesForce speeds up revenue and sales opportunities
Faster. Smoother. Easier.
RevFlo is now available in the Salesforce AppExchange.
Negotiate, price, quote and manage contracts faster and easier while maintaining visibility and control throughout the contract review and signing process. Work in one system with Single Sign On, for instant access to pricing and contract information and simulation scenarios, real time AI driven price guidance and insights. Stop making your sales team chase information. RevFlo by Vistex lets your sales team focus on high-value activities, like, well…selling!