A compelling and effectively communicated value proposition is essential to gaining mindshare with current channel partners and recruiting new ones. Change happens rapidly in the channel environment, and partners who can add significant value in the cloud will become trusted advisors to clients and treated as equal business partners by leading technology vendors.
Businesses need partners for different reasons than they did in the past. Arguably one of the most important components of a new partner recruitment toolkit is your value proposition. Partner implementation services are being marginalized through vendor promises of simpler technology experiences and the cloud.
With hardware a thing of the past, businesses don't think they need a technology provider – just buy the licenses and off you go: simple as that, right? Not exactly. There are many war stories in the industries of customers who did just that and now have cloud-based inefficiencies and disconnected business management applications. Vendors must craft program value propositions for partners and customers that identify the challenges they are facing and convince them of the joint effort it takes between them to deliver a seamless business solution to the end user customer.
Channel partner value propositions are often created from a vendor's perspective and done with an "after the fact" approach, adding up the benefits partners receive through a partner program. However, this approach has no relevance to whether such a value proposition has real value for the partner, nor does it necessarily accomplish what is important to them in terms of increased revenues, market share, and profitability.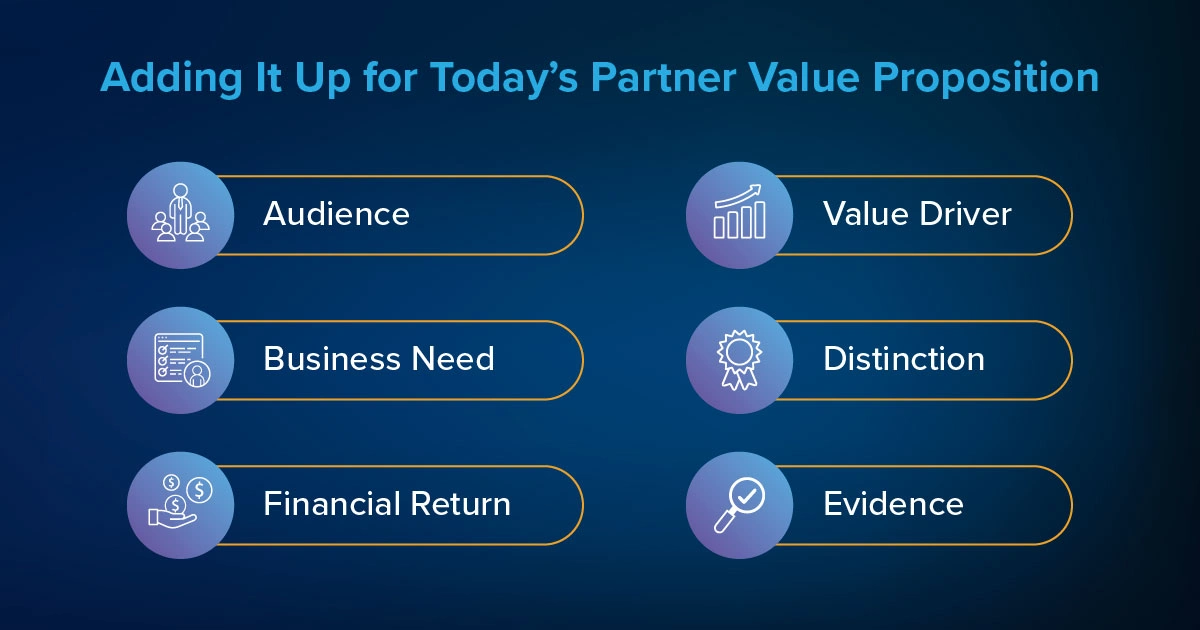 Adding it up for today's partner value proposition
This eBook provides a clear framework to understanding the value proposition and its need for reinvention in the age of digital transformation including the key ingredients such as:
Audience
Business Need
Financial Return
Value Driver
Distinction
Evidence