Even if you are the 800 pound gorilla in your market (think Microsoft, HP, Google), you need to get into your partners' heads to maximize the potential of your channel. If you are not an 800 pound Gorilla, the stakes are much higher. You need to know what makes your partners tick? What pays their bills? What keeps them awake at night? Who are their main competitors? What do their customers care about? Only when you truly understand their needs and aspirations can you fine-tune the elements of your partner program to ensure their success.

It's important to remember that in a partners' eyes, not all vendors are created equal. They can be separated into simple categories based on a vendors' ability to help them do two things:
Drive demand
Generate Profit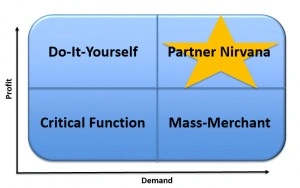 All cloud partners are looking for vendors in the "Partner Nirvana" quadrant who can do both, but they are not easy to find and building these relationships require time, investment and effort. Vendors in the "Mass Merchant" category can be critical to a partners' success because they make the phone ring and bring them customers, but they understand that profits will have to come from elsewhere. That is the main reason Microsoft has over 150,000 partners!
In reality, most vendors will fall into the other two categories – "Critical Function" and "Do-It-Yourself." "Critical Function" vendors don't drive demand or profits but they do provide products that are critical elements of a partners' complete solution. An extreme example would be a medical-grade stainless steel screw supplier. Some high tech examples would be disk drives, printers and memory board manufacturers.
You most likely land in the "Do-It-Yourself" category, where the value proposition to you, the vendor, makes perfect sense. This is what all CEOs and CFOs envision as a 'fair' trade: "We will provide you, Mr. Partner, with a fantastic ability to earn revenue and profit, and you, Mr. Partner, must figure out a way to generate demand."
Partners hear different versions of this sales pitch ALL THE TIME. With a flawless presentation, the right relationships, a big expense account and some over-the-top great demos it is possible to entice partners to bite on this offer. But the honeymoon will be brief if they don't see some action – deals, revenue, profit – fairly quickly. In fact, this might be the zone where you will find a good portion of your least successful partners.
From a partner perspective, the trap inherent in the "Do It Yourself" category is that it is easy to underestimate the time and effort it will take to generate demand from scratch. The missing ingredient to their success is viable, warm leads, and the shift to SaaS has only exacerbated this problem. Now, instead of getting a quick dose of revenue when they close a big deal, they get a trickle of subscription revenue over a period of months and years, and they must invest in up-front in the training, enablement, equipment and people to succeed with a new product line, but break-even point is far in the future.
Internally, moving from the "Do-It-Yourself" category to "Magic Quadrant" is also a tough task, as it's difficult to sell your organization on this value proposition: "We need to pass a bunch of warm leads to partners and then share a big of chunk of revenue with them to help them build momentum" (Imagine your CFO's face as he reacts to this pitch!). To make this case, you must build a long-term financial model and clearly articulate benefits, such as reaching new markets, augmenting implementation capabilities, enhancing the product with complimentary capabilities or simply providing access to more/better customers. The comparison must be made between 'build or buy' – how much time and revenue would it take to do this yourself vs. what it will cost to leverage a channel to help you get it done?
No matter which category you fall into as a vendor, you have the ability to dramatically improve channel performance by customizing your program to fit your partners' needs. The good news is that all the elements, such as MDF, enablement tools, training, demand-generation, market knowledge, supply chain and technical support – are usually within your control.