For some, the motivation to exercise is mere health; others want to become faster, more agile and stronger. But one thing is certain: the growing awareness of fitness is creating a lot of enthusiasm for sport among Germans. According to a Deloitte study from 2016, more than a third of the population is physically active for two to five hours a week, and over a quarter even five to ten hours. The online trade is happy: For years, online sales in the market for sports and outdoor articles have been growing continuously. According to Statista, it will be around 2.2 billion euros this year in Germany and around 55.5 billion euros worldwide.
Sales in German e-commerce for sports and outdoors are growing continuously. In 2016 it was just under 1.9 billion euros, it should be 2.7 billion euros in 2022. (Source: Statista)
So in today's article, we're going to take a look at an exciting, high-growth market. We summarize the latest trends in sports and outdoor for you, show you what consumers value and which rules of the game you as a sporting goods retailer or manufacturer should observe.
Consumers are paying more and more for their fitness
Retailers and manufacturers know that for a successful market positioning in e-commerce it is crucial to focus on the customer and his needs. In addition, there is the challenge of addressing them individually using all available channels and stimulating them to buy. In order for this to work, it is important to know as much as possible about the potential buyer. The following study results promise first insights.
Most interesting type of buyer: Demanding performer
The "ISPO Sports Evolution Report" by the market research company Konzept & Markt and ISPO Academy provides important information about how today's sporting goods buyers think.
For the study, the main target groups "sporty-active" and "sporty-non-active" were considered. As it turned out, the two groups hardly differed in terms of their demographic characteristics. Rather, the attitude towards sport, behavior and media use are decisive for the demand for sport and outdoor articles and clothing.
The market researchers define five different types of buyers who shape the market. The largest proportion are the demanding performers (24 percent), followed by the relaxed exercise pragmatists (22 percent), the active sports fans (19 percent), the established open-air athletes (18 percent) and finally the distant self-optimizers (17 percent).
The group of the most demanding performers is the most interesting group because of their high purchasing power for retailers. They are predominantly made up of working, high-income and educated men. Since performance monitoring is important to them, they also represent the highest percentage of users of electronic devices to support sporting activity. The group also uses most of the sales channels for purchasing, in particular branded stores, specialist retailers and manufacturers' websites.
Annual per capita spending on sport is 725 euros
The Deloitte Sports Market Study 2018 also shows how much money physically active consumers spend on their fitness and health. For sportswear alone, the annual per capita expenditure is 120 euros. For equipment there is another 86 euros. In addition, there are costs for membership fees and entry to fitness studios and clubs. These are around 166 euros a year. Active holidays and sports trips cost 237 euros a year. Together with other, smaller expenses, this amounts to an average of 725 euros per year. A third of those surveyed expect even higher sports-related expenses in the next 12 months.
Multi-channel solutions are gaining in importance
"With sporting goods, not all information can be conveyed online. For example, tennis rackets have to be tried out or at least picked up. It's the same with a ski helmet or sports glasses", says Ottmar Franzen , managing director of the market research company Konzept & Markt.
For all those surveyed in the "ISPO Sports Evolution Report", the stationary sports shop for the purchase of sports and outdoor items comes first. For those who are not physically active, it is 60 percent, and for those who are physically active it is even 74 percent. The online shops follow at a considerable distance in both groups (47 percent of those who are physically active and 37 percent of those who are not physically active). And Amazon also seems to be a popular sales channel: 42 percent of those who are active in sports and who buy items from the outdoor and sports sectors and 40 percent of those who are not active in sports have bought products from Amazon in the past 1-2 years. This means that Amazon's reach is greater than that of department stores (27 percent and 23 percent) or discounters (24 percent and 27 percent).
The stores of the sports brands also play an important role: around a third of those who are sporty (35 percent) and just under a quarter of those who are not sporty (24 percent) have made purchases here. The brand stores are therefore still important sales channels for manufacturers and at the same time important for brand presentation to the public.
For retailers of sports and outdoor items it should also be interesting that a fifth of those who are active in sports say that they have made purchases on the website of a sports shop in the last 1–2 years. With multichannel solutions, specialist shops are therefore met with the corresponding approval from consumers and thus have the opportunity to generate additional sales via online sales.
The answers to the question of where the last sporting goods were bought makes it clear that online sales can be an equivalent alternative. The proportions of stationary and online purchases are practically the same.
Trend topics: outdoor, athleisure, wearables and sustainability
As for the most popular sports, outdoor activities seem to be the most popular. The respondents named stand-up paddling, parkour, wakeboarding, kite surfing and freeriding as the top five trend sports.
It is also noticeable that many consumers are guided by fashion when buying sportswear. More than half of those surveyed say that they buy items for reasons of fashion. This preference is reflected in the so-called athleisure fashion trend. Athleisure stands for normal everyday clothing that is also designed for training and other sporting activities and, conversely, sporty clothing that can be worn in everyday life.
Another trend topic are wearables and devices. The interest in it is particularly high among those who are active in sport - here the proportion is 62 percent. In the case of those who are not athletic, 40 percent are interested in it. This opens up interesting market potential for sports and electronics manufacturers.
Heart rate monitors, fitness trackers and chest straps are particularly widespread (61 percent of those interested in active sports). GPS and navigation devices are relatively widespread (43 percent of those interested in active sports). Action cameras and drones have so far been less widespread (18 percent and 7 percent, respectively, of interested athletes). The market research and consulting company Tractica assumes that wearables shipments will total 196.9 million worldwide in 2020.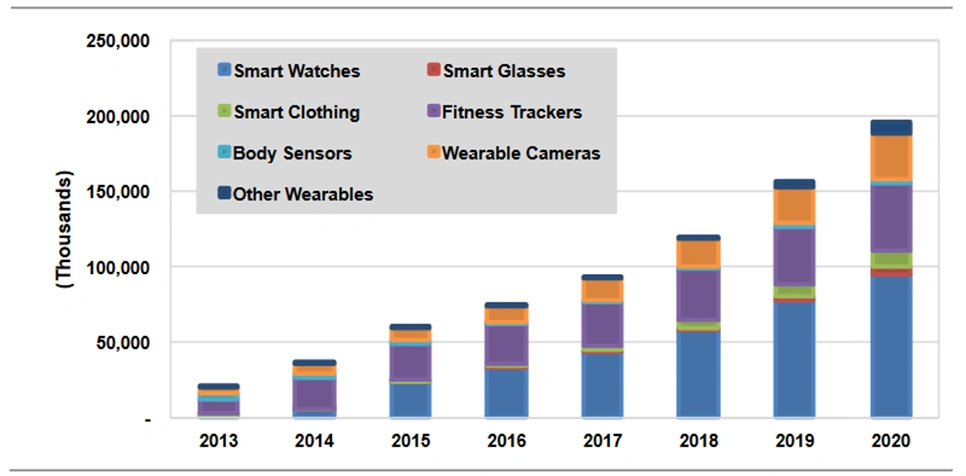 In the global wearables market, consignments are expected to total 196.9 million in 2020. This corresponds to an annual growth of 25 percent compared to 3,013 (17.9 million mailings). (Source: Tractica)
You could already read that the environmental and sustainability awareness of consumers has increased significantly in recent years. And sustainability is also becoming a trend topic in the outdoor and sports segment. 60 percent of those who are active in sport say that sustainability is important to them when making a purchase decision.
If one asks about the understanding of "sustainability", it becomes clear that the direct benefit for the user is in the foreground: long-lasting quality, natural, non-toxic materials and environmental friendliness.
Whether you are a specialist or an all-rounder, orient yourself towards the competition!
In the sports and outdoor business in particular, retailers and manufacturers face a variety of challenges. On the one hand, it is important to find a workable balance between brick-and-mortar and online sales . On the other hand, they have to ask themselves whether they can generate higher sales as a real specialist or as a broad-based all-rounder.
Regardless of which sales channels you choose, never let your competitors out of sight! Because the price and range structure of your competition provides you with important information about where you stand in the market. Vistex's automated software solution supports you with up-to-date and highly valid data.