Vistex Receives 2020 SAP® Pinnacle Award for Solution Extensions Partner of the Year - Customer Experience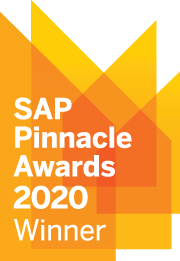 Hoffman Estates, IL: April 15, 2020 – Vistex Inc., today announced that it has received a 2020 SAP® Pinnacle Award as the SAP Solution Extensions Partner of the Year - Customer Experience, which recognizes its outstanding contributions as an SAP partner. SAP presents these awards annually to the top partners that have excelled in developing and growing their partnership with SAP and helping customers run better. Winners and finalists in 34 categories were chosen based on recommendations from the SAP field, customer feedback and performance indicators.

Our industry has seen a lot of change over the past decade, but what hasn't changed is the strength and scale of our ecosystem, said Jennifer Morgan, Co-CEO of SAP. Our partnerships give us the ability to be a part of the broader conversation – and their impact is both evident and critical to our customers' success. Christian Klein, Co-CEO of SAP added, Partners are the heart and soul of our vision for the Intelligent Enterprise and play an important role in turning this vision into reality for our customers. We are looking forward to jointly delivering success to our customers with our vibrant and successful ecosystem – now and in the future.
It is a tremendous honor and accomplishment for Vistex to be recognized in the Customer Experience (CX) category, said Sanjay Shah, Founder & CEO. Vistex has been at the forefront of developing innovative software focused on experience – our solutions not only enable our customers, but also their customers, in how they interact and engage with one another for their mutual benefit.
Vistex, a longstanding SAP partner now in its 15th year, offers products resold as SAP solution extensions. Vistex software manages mission-critical programs, including pricing, trade, royalties and incentives, as part of the enterprise management system. Its solutions run alongside SAP Business Suite applications, as well as SAP S/4HANA®, offering real-time insights into program performance.
SAP Pinnacle Awards shine a spotlight on SAP's partners' remarkable contributions, acknowledging their dedication to teamwork, innovative approach and capacity to challenge what is possible to help customers achieve their goals.
# # #
SAP, SAP S/4HANA and other SAP products and services mentioned herein as well as their respective logos are trademarks or registered trademarks of SAP SE in Germany and other countries. Please see https://www.sap.com/copyright for additional trademark information and notices. All other product and service names mentioned are the trademarks of their respective companies.
SAP Forward-looking Statement
Any statements contained in this document that are not historical facts are forward-looking statements as defined in the U.S. Private Securities Litigation Reform Act of 1995. Words such as anticipate, believe, estimate, expect, forecast, intend, may, plan, project, predict, should and will and similar expressions as they relate to SAP are intended to identify such forward-looking statements. SAP undertakes no obligation to publicly update or revise any forward-looking statements. All forward-looking statements are subject to various risks and uncertainties that could cause actual results to differ materially from expectations. The factors that could affect SAP's future financial results are discussed more fully in SAP's filings with the U.S. Securities and Exchange Commission (SEC), including SAP's most recent Annual Report on Form 20-F filed with the SEC. Readers are cautioned not to place undue reliance on these forward-looking statements, which speak only as of their dates.
For more information, contact:
Alex Dehnert, Director of Marketing
(847) 490-0420 | alex.dehnert@vistex.com