Your Next Profit Booster: A Healthy Dose Of Commercial Policies Framework
The importance of commercial policies in Life Sciences
Did you know you can boost margins and profits beyond controlling pricing and contracts in sales?
A healthy dose of a commercial policy framework will help you as a Life Sciences company to direct processes, procedures and boost profits.
Contrary to what you may believe about commercial "policies," there's no association with "policing" and no complicated rules you must follow.
Viewing commercial policies as your partner rather than as a policeman gives you an entirely new path to achieve company strategies and boost margins and profits.
What do commercial policies mean to Life Sciences companies?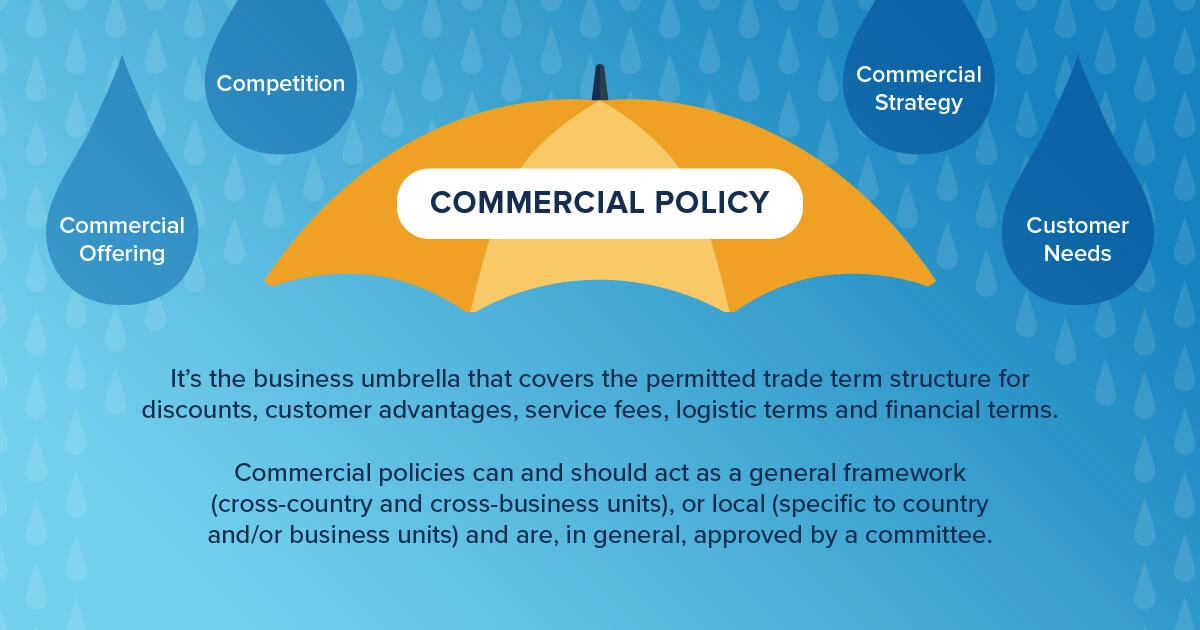 Staying up to date on progress and achievement
The Life Sciences industry is navigating a profound transformation. As markets rapidly shift and companies scramble to adapt commercial models for competitive advantage, the importance of developing and adhering to a commercial policy framework becomes evident. The competitive landscape is triggering the need, but the ever-changing government pricing pressures require you to adopt policies that allow agility and better time to market.
Change and speed — a combination that heavily impacts the progress and achievements that your company delivers. And, at the same time, it can trigger various asynchronous initiatives that, in the end, impact your margin unfavorably. It's in this context that commercial policies play an important role in helping you to direct the path of all initiatives ensuring they align with your strategies and have a positive impact on your margins and profit.
What does it take to develop a solid commercial policy?
Let's expand on how we defined commercial policies above. Your commercial policy framework should include financial terms such as payment terms and the target margin for your company for that specific market or brand. We refer to commercial policies as the umbrella that covers the permitted trade term structure so that your company can weather a storm due to:
Pricing pressures
Economic situations
Regulation changes
Evolution of customer needs
Competitive pressures
Getting started: the shot in the arm you need
The key element to getting started is developing a framework that allows you to organize and prioritize what you need to do to boost your sales and margin. Your framework is a drilled-down deep approach considering differentiating your product from your competitors. One example of how this could work: if we consider an orphan drug launch with an indication that there is no treatment, you will need to detail the initiatives required to ensure doctors are aware of the disease, know how to diagnose the disease and focus on ensuring patients are cognizant of the disease. In another example, if we consider the melanoma market, where a multitude of launches and innovations has occurred, you won't need to allocate as much detail to the awareness initiatives. However, it will be important to focus on how you will differentiate your product from others in the market and articulate how it will improve treatment quality, particularly focusing on generating better outcomes.
The 7 key elements needed to protect you against barriers
Breaking barriers and moving beyond boundary setting involves defining a common framework that includes 7 key elements that you should define and detail that are followed by the entire organization. These elements include:
Target customers and sales channels
Include commercial terms to offer
Determine what benefit types you want to include
Pinpoint business stakeholders to target
Identify common terminology
Define limits, price corridors and target margins
Set precise governance and approvals
Take a quick journey into what these 7 key elements include by viewing the infographic. Or, take a deeper dive and watch this On-Demand Webinar: Boost your Profit: The Importance of Commercial Policies - Vistex, Inc
To sum it all up, a good commercial policy framework will help you not only gain control of your margins but also improve your commercial time to market. When defining a commercial policy, it is important to remember that they are not static and need adjusting for your company to continue on a path of healthy growth.
Coming soon! Commercial Policies eBook