Drug development is a high-risk, high-reward business.
The risk? According to Medicinenet.com, only 5 in 5,000 drugs that enter preclinical testing advance to human trials. And only 1 of these 5 drugs ultimately gets approved for sale, which means the chance for a new drug to make it to market is 1 in 5,000. That's a lot of R&D investment.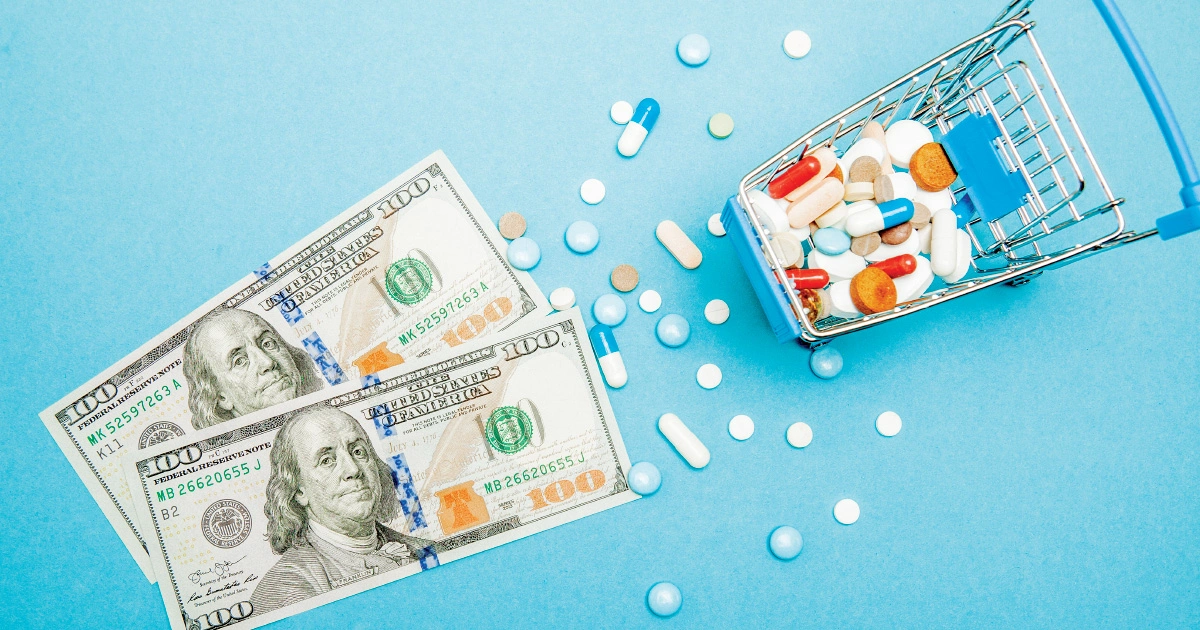 But, oh the reward! If just one of those approved drugs ends up being a blockbuster, you're looking at billions in sales. Lipitor, for example, has been the gift that keeps on giving for Pfizer. Statista reports that worldwide revenue for Lipitor was almost $120 billion from 2003 to 2019.
Pricing drugs fairly is a huge dilemma. In a recent Biopharma poll, more than 80% of healthcare executives identified pricing as the industry's most pressing issue.
Drug prices have risen dramatically over the last few years and, as a result, the industry's reputation has taken a major hit. According to a 2019 Gallup poll, just 27% of Americans regarded the pharmaceutical industry positively, compared with 58% who hold a negative view.
For years now, we've been hearing about a shift in healthcare toward outcome-based pricing. But this promised shift has moved at a glacial pace. One reason, especially in the pharmaceutical sector, is Medicaid's "best price" rule. But a new proposal by the Centers for Medicare and Medicaid Services (CMS) aims to help commercial insurers negotiate value-based outcome deals with drug makers.
According to CMS administrator, Seema Verma: "CMS's rules for ensuring that Medicaid receives the lowest price available for prescription drugs have not been updated in thirty years and are blocking the opportunity for markets to create innovative payment models. By modernizing our rules, we are creating opportunities for drug manufacturers to have skin in the game through payment arrangements that challenge them to put their money where their mouth is."
With mentions of "skin in the game" and "put their money where their mouth is," Verma sounds tough, which leads many to assume that value-based contracting will force pharmaceutical companies to lower drug prices. But this is not necessarily the case, as the intent of outcome-based pricing mechanisms is to align drug prices with their value.
Estimating a drug's value is always complicated. We know what fewer days in the hospital are worth, but what is increased quality of life worth? What is life itself, worth? And what is a fair price that will incentivize the drug company to continue innovating—even if many of their drug candidates never pan out?
In announcing the rule change, Verma emphasized that the new rules are tools to facilitate outcome-based pricing arrangements: "Tools for health plans to negotiate with manufacturers. It also shifts us away from our typical negotiations around drug pricing—which are usually volume-based–[towards]…having negotiations around outcomes."
It's clear that outcome-based pricing is coming. It is the future. The question is how do you manage it? There are so many decisions that drug companies will have to make: How do we manage across our portfolio of existing medicines and vaccines plus everything in our R&D pipeline? How do we create profitable drugs? How do we navigate the uncertainty of outcome-based pricing and government policy? Do we have the agility to create more pricing programs?
I am excited to see how our life sciences customers manage this landscape of complexity and uncertainty. As always, we are here to help navigate these thorny problems as the industry evolves.
To learn more about outcome-based pricing, download our eBook: "Making Outcome-based Pricing Initiatives Add Up in The Healthcare Industry."