It seems like such a logical approach—in a global economy, concentrate the production of low-cost items in low-cost countries, simplify supply chains, and employ lean manufacturing techniques to keep inventories low. And it all works great—until a global pandemic breaks out.
The COVID-19 experience has exposed multiple weaknesses in the life sciences supply chain. The biggest takeaway is that we are dangerously dependent on Asia for critical components and end products in the health care industry.
For example, China and India provide up to 80% of the APIs (Active Pharmaceutical Ingredients) imported to the U.S. As the voracious Coronavirus has shown, when Asia shuts down, the world starts scrambling for suddenly scarce medicines and equipment.
Michael J. Alkire, president of group purchasing organization, Premier, remarked to trade publication, Supply Chain Dive: "We thought that by moving into Taiwan and out of China, we were reducing our risks. When the virus hit, we couldn't ship. As an industry...we're going to have to look for partnerships to produce domestically as well as using the global supply chain."
As Alkire said, life sciences companies need to find ways to serve local markets while still using a global model where appropriate. The most likely solution—for larger companies at least—is a multi-layered chain with small local suppliers connected to a global spine.
In fact, shifting production away from distant regions and closer to end markets is now a routine consideration in supply chain risk mitigation. According to Harvard Business Review: "Manufacturers are going to be under greater political and competitive pressures to increase their domestic production, grow employment in home countries, reduce or even eliminate their dependence on sources that are perceived as risky, and rethink their use of lean manufacturing strategies that involve minimizing the amount of inventory held in their global supply chains."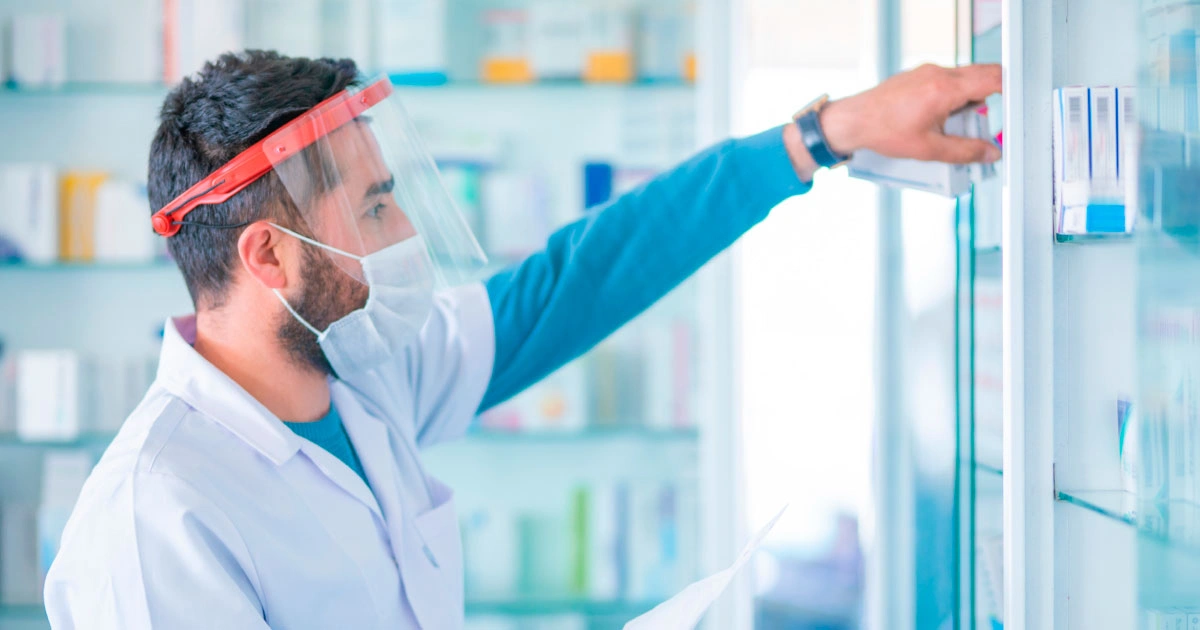 Big change won't happen overnight. Even if a US-based life science company wanted to switch API suppliers or move production of PPE to a local manufacturing center, it would take months or years to accomplish. Not only would they have to localize final production of the drugs and medications, but also the raw materials to produce the APIs and PPE. This will require future onshoring capacity and the storage of raw materials; manufacturing volume of this magnitude would require FDA certification. Using this production only during times of crisis would require recertification. Utilizing this local manufacturing would require customers who are willing to purchase the output. The manufacturers would also have to ensure they meet the FDA GMP (Good Manufacturing Practices) on an ongoing basis.
If nations want to create drug security by completely reshoring production and distribution, life sciences organizations will need time to adapt to the new market realities—which will mean a higher cost of goods and lower margins on some drugs and equipment.
What's clear is that the status quo cannot stand. The Coronavirus supply shock has laid bare the vulnerabilities of a global life science supply chain dependent on Asia. We've learned that low-cost production comes with hidden costs. Lean manufacturing depends on all the assembly lines, trucks and ships running on time. Going forward we will need to have a managed hybrid approach to supply change management.
Not only should we address how to manage the supply chain in times of pandemic crisis, but also how we deliver drugs, vaccines, and treatments—even our hospital/delivery infrastructure. During this pandemic, patients put off getting medications and treatments that required visits to doctor's offices or outpatient facilities. Often, this was due either to lockdowns or the fear of infection. Manufacturers may need to explore treatments that can be administered by patients themselves. This will require additional innovation to make it safe, effective, and easy to use—while assuring the delivery of the drug or treatment. We also need to look at how our hospital/delivery system is designed. For example, hospitals should be more modular and allow some level of reconfiguration. When looking at infrastructure, we need to assess regionally instead of looking at each individual facility.
No matter how you look at it, the current pandemic has shown that we need to look at the entire supply chain process to ensure successful management, production, and distribution during future crises. Reality has a way of disrupting the best laid plans. And in the case of life sciences companies, the damage can be measured in deaths, as well as dollars.